Thursday, February 10, 2022
to Monday, March 7, 2022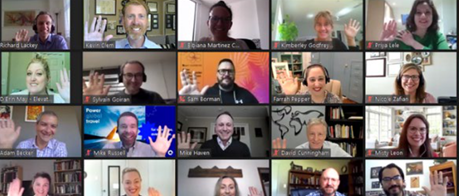 Ask the Experts Webinar - SOLD OUT
Ask the Experts sessions bring industry experts together to answer relevant and topical questions, submitted by the community, in a conversational tone (versus formal presentation). By sponsoring one of these panel discussions, a member from your team can join 2-3 panelists as an "expert".
Enroll for a Webinar Sponsorship
Solution Labs Webinar - SOLD OUT
Solution Labs are webinars that deliver timely, meaningful solutions to the in-house legal ops audience. Sessions are solution-oriented and formatted to share best practices, information that improves processes and departmental efficiencies or provides valuable insights from innovative projects.
Enroll for a Webinar Sponsorship
Mentorship Monday - 2022 Annual Sponsorship
CLOC Mentorship Monday will provide in-house members with a 20 minute 1:1 chat with a legal industry leader to discuss questions and advice on professional development or anything else that's top of mind be it career, technology, or bouncing off ideas.
Enroll for Mentorship Monday Sponsorship
Podcast Mini-Episodes and Advertisements
Bring thought leadership to the legal ecosystem with a CLOC Talk mini-episode podcast. If showcasing your product or service to help advance the business of law, select an advertisement in one of the main episodes.
CLOC is thrilled to offer multiple digital sponsorship opportunities in 2022.
Leverage one of these opportunities that allows audiences to tune in from anywhere, at any time.
See our Digital Event Sponsorship Guide for more information.